A good Death?
Bev, my Mum died on March 24 2022, aged 91, after a surprising shock diagnosis of an aggressive lung cancer.
Being a member of DWD since I can remember, she had the advanced care directive and we all knew her wishes regarding access to VAD when required.
Mum was in residential care after her physical needs escalated and she experienced what I would describe as 3 near death experiences in the previous 2 years. Bev's first 6 months in care saw her very involved and active in the in-house exercise classes and book clubs provided. When I look back she started physically weakening and feeling nauseous late in 2021. However, if you knew Bev, she complained of feeling sick a lot. She caught Covid in late November but the GP attending the residential care was really pleased she only had a mild case.
Bev had a strange episode in the week before Xmas 2021 where she complained of abdominal pain and was unable to urinate (she usually self-catheterised) experiencing severe discomfort – she became incoherent, shrieking at the top of her voice. After a night in the Emergency department at hospital she gradually became less confused and had a permanent catheter fitted.
Back in residential care she seemed fragile and still complained of nausea and withdrew from social activities apart from speaking with friends, family and chats as she walked around the centre. We had appointments with the urologist, GP and continual observations from nurses and Bev was treated for UTI's with antibiotics.
The degree of care where she lived was great until Bev needed higher care at the pointy end of approaching her death. Also she showed the attending GP two lumps that had developed on her chest, which the GP said not to worry about. However, they ended up being part of the overt expression of cancer.
Have you got a personal story you would like to share?
Join the other voices in raising awareness about the importance and benefits of safe and compassionate Voluntary Assisted Dying laws.
During Covid all doctors and nurses and other humans were under pressure and time was not given to exploratory procedures, especially for a 91 year old.
Bev limped her way through Xmas and January not that well and getting tired quickly but rising to the occasion for family meals and visits. I continually advocated for her whilst trying to live a life myself, unsuccessfully.
February came and Bev's energy levels were waning. Then at the end of the month a fruity, chesty cough became apparent. I noticed it when 'dragging' Bev around the block for a usually enjoyable walk in the sun with my husband Geoff.
I reported the cough to the nurses who immediately called the GP who listened to her chest and put her straight on antibiotics citing a chest infection.  After 2 weeks on varying antibiotics the cough was the same so a chest  x-ray was ordered. Pneumonia was suspected, in fact an uncommon post-covid pneumonia was diagnosed. But after the X-ray was studied again and Bev was not responsive to new antibiotics a CT scan was ordered.
It was then in early March cancer was suspected and subsequently confirmed by an intrusive series of tests carried out in hospital. Bev's lungs were full of fluid and she required oxygen. 1.5 litres of fluid were removed, and she temporarily improved. However we were warned the fluid could return quickly within a matter of days, which it did.  I wanted her returned to residential care as Bev could only see one person for one hour each day in hospital.
Back in residential care Bev required constant anti nausea medication which we had to continually agitate for even though it had been written up by the GP. The need for morphine arose and the amount Bev needed to be comfortable was quickly escalating beyond what was written up by the GP.
Mercifully family members were able to visit Bev, so much needed conversations and hugs were had to let Bev know she was loved. She tired easily but smiles and tears were evident.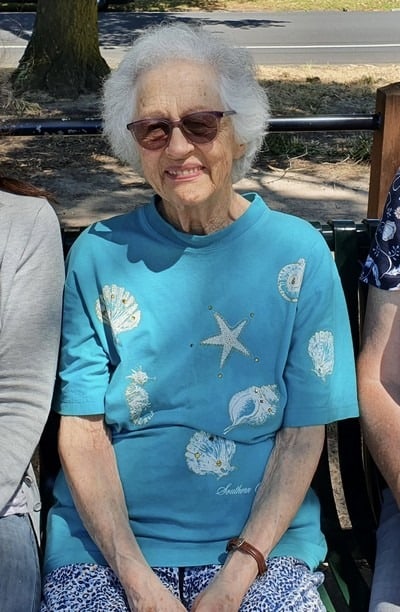 Photo of Bev on one of her last coffee excursions – here's to Flat white soy de-cafs!
March 15 brought a frank conversation with the Oncologist who, upon assessing the tests Bev had in hospital, told us the cancer was all through Bev's body with barely an organ untouched. With little or no chance for treatment Bev was diagnosed as being in the palliative phase.
We talked to the Oncologist and GP about VAD and I phoned DWD to get advice about enacting the process.
I think the Oncologist knew we had very little time left and recommended Palliative Care. Bev was opposed to it, as her partner Rudi had a painful death in palliative care having to starve himself to death (as featured in Rodney Syme's book).
The Oncologist assured us that the Palliative Care centre would take care of everything and administer medication as required. It amounted to saying they would assist Bev to die, but I know this cannot be said overtly.
It was such a dynamic situation, changing every day, with major decisions having to be made continuously. A few days passed and it was obvious Bev could not comfortably die in residential care as there weren't the number of nurses and doctors to support her declining physical and psychological state. There was no time and Bev was in no fit state to get assessed for VAD.
Bev's anxiety levels were escalating and at one point she asked the nurse to stay with her one night until the morphine kicked in. The nurse said she didn't have time.
My brother, sister, husband and myself decided to move her to a palliative care centre, with her agreement, citing they could not support her needs at Residential Care. 
Bev was moved to Palliative Care on March 22. I travelled in the ambulance with her and settled her into a comfortable room and stayed until the next dose of morphine kicked in.
I felt slightly relieved the centre and staff were better equipped to support Bev and there would not be such a battle to access regular medication. I was exhausted and took the next day off letting my sister visit. My sister rang me crying the next day, saying Bev was expressing she wanted to end her life and was needing more medication. Again it was a process to justify an increase an in medication as she hadn't been formally 'assessed' by the doctors to work out a regime. The doctor I spoke to over the phone said they needed to assess her over the next few days to ascertain the right level of medication. I was lulled into thinking Bev would be at the centre for a while so arranged to visit her the next day, but Bev passed away in the early hours of March 24.
The nurses said she was agitated and busy until the end. She tried to get out of bed, and they ended up setting up a seat for her in her room doorway so she could watch them come and go, and when she became uncomfortable they gave her more morphine and put her into bed where she immediately started snoring.  They checked on her a couple of hours later and she had died.
I constantly question myself on whether I had advocated strongly enough and made the right decisions. In my heart I wish Bev's anxiety as she approached her death could have been treated better. We did not know how close she was to death, but I know that is no justification for how her death transpired.
VAD has its limitations and was not possible at the time.
What do I/we learn from this?