VAD Support for Families, Friends and Carers
Support is available for families, friends and carers of people choosing VAD, both during and after the VAD process.
We know that some people have no one to talk to about their experience, while others prefer not to discuss what may be considered by some to be 'a contentious' topic. Our support programs provide an opportunity for you to discuss your experiences and build a sense of community with others who understand and appreciate your VAD journey.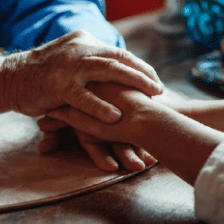 DWDV and Griefline have developed a pilot program to offer group support for people at different stages of the VAD journey:
Pre-VAD support groups if you are facing the death of someone who has chosen the path of VAD
Post-VAD support groups if you are seeking group support after the VAD death of a family member or friend.
These groups offer a safe space for you to connect and share with others who can relate to the uniqueness of loss and grief associated with VAD
You can register your interest in participating in one of these groups by:
You can also contact our office if you have any questions.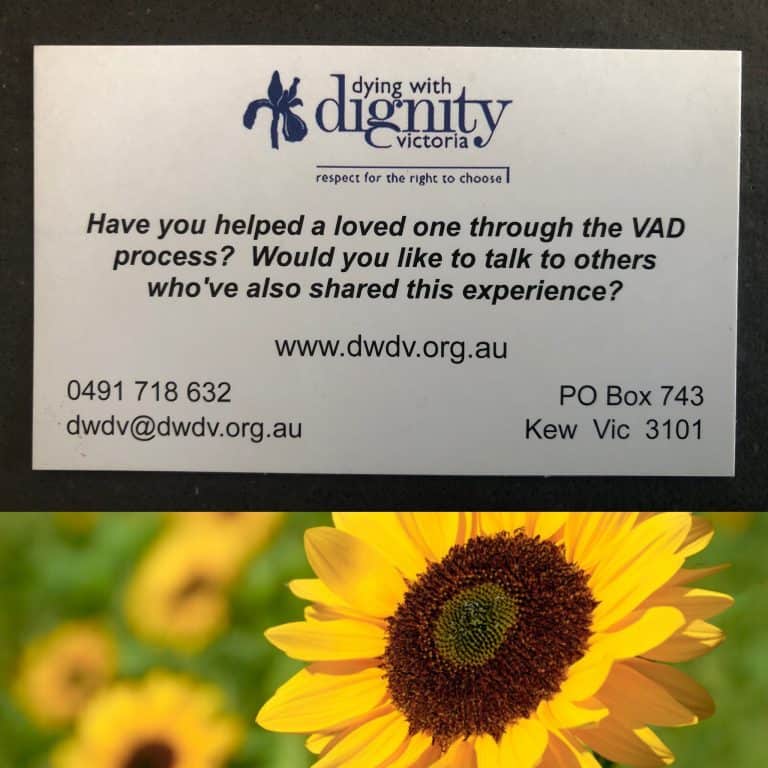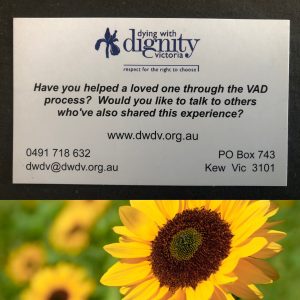 One-to-one peer support is also available to individuals through the VAD experience. Connections are made by phone, text, email or over Zoom.
DWDV volunteers provide these peer-to-peer connections for people supporting someone choosing VAD. They also support individuals grieving a VAD death. This is not a counselling service. A conversation with one of our volunteers is an opportunity to connect with another person who has traversed the journey of VAD with a family member or another person in their life.
If you or someone you know would like to access 1:1 peer support through one of our volunteers, please contact our office.