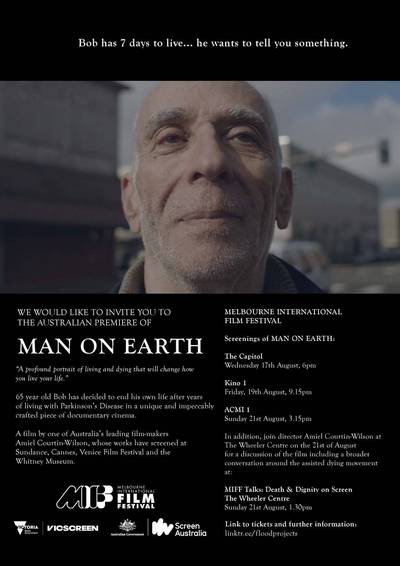 The Melbourne International Film Festival is coming up in August.
Among the offerings is a beautifully filmed, emotionally riveting documentary that follows the last days of Bob, a 65 year old New Yorker who's suffered years of Parkinson's disease. Bob chooses to avail himself of the state of Washington's option to die with dignity but it is not entirely a smoothly dignified journey. With at times uncomfortable acuity, the film portrays the range of emotions he, and his family, experiences before he takes his last breath.
"Man on Earth" was made by Australian film-maker Amiel Courtin-Wilson, and features multi-award winning cinematographers, sound and editing people.
There are 3 screenings in Melbourne:
Wed 17 August at The Capitol (6pm)
Fri 19 August at the Kino (9.15pm)
Sun 21 August at ACMI (3.15pm)
This film is a brilliant – and local – production. It's not a didactic film about the pros and cons of VAD. It's a raw and honest chronicle of one man's choice and how that affects his friends and family. Not to be missed!
Get tickets here. Groups of 10 or more can get a 25% discount.
On Sunday 21 August you can also book for a free one hour discussion about the film at the Wheeler Centre:
MIFF Talks: Death & Dignity on Screen
This discussion will be hosted by Michael Williams (editor of The Monthly) and will feature director Amiel Courtin-Wilson (Ruin, MIFF 2014; Bastardy, MIFF 2008), Dr Nick Carr (GP and Dying With Dignity Victoria board member) and Professor Louise Keogh (Professor in Health Sociology, University of Melbourne).
Book here for the discussion.