My journey through the Voluntary Assisted Dying process in Victoria
It is February 2020, and I am the happiest of people. I have just shifted into a new home, with my dog Chops, an old rescue dog.
The house I bought, I share with my daughter, her husband and their 12 and 16 year old girls. Thankfully for son in law, there is a separate attached unit to the side. So Chops and I am independent of them. Unless they want food !!
I am a 72 years young female. A retired Trained Nurse, horse rider and avid walker and swimmer.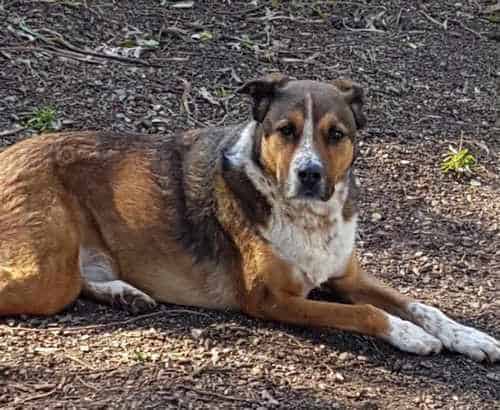 Chops and I walk for kilometres, twice a day. We have artificial lawn at this new home….Chops thinks it's carpet, so won't use his bowels at home. Hence rain, hail or burning heat. Twice a day we walk, and have a lovely time, meeting our neighbours and ANYONE Chops takes a fancy to. He is a big cross breed hunk of gorgeous dog.
By June, in the middle of Covid, I start to trip with my left leg when walking with Chops. Just occasionally. And, when chatting to a nursing friend, she jokingly asked if I had started to have a morning tipple as I was slurring some words. As time progressed the tripping got worse and by Christmas I had actually fallen a couple of times. How embarrassing, I thought.
So I went to see my G.P. who performed a barrage of tests.  All negative….so she suggested I see a Neurologist in Ballarat. There are not many here and it took 3 months to see one.
It's April 2021 now and I see the Neurologist. He sent me off for more tests and a Nerve Conduction Study of my left leg.
Results came back and they were inconclusive, but he felt I had a compressed Sciatic nerve….he suggested I see a Surgeon, and make an appointment to see him in a few months, if needed.  It's easier to cancel an appointment than make one…..so true!!
Being a stubborn female, I disagreed with his diagnosis as I had no pain. Instead I bought myself a Red Electric Trike with a hot pink helmet.  So I could give Chops the exercise he needed.
I quickly found out I had excellent bones as Chops kept going in a different direction from Trike and me. Causing lots of falls. Thank God I bounce…
My leg is getting worse and walking more difficult. By the time I see him in October ( July appointment had been cancelled due to Covid) I have to use a walking stick. He calls me in and watches how I walk. You can see the shock on his face, thru the mask!!!
Ok, he checks a few things, looks grim and says another lot of tests please. This time Nerve Conduction Study on all limbs and tongue…….. The tongue needle sounds worse than it actually was.
It was interesting watching the face of the doctor doing the test. Even behind a mask. Just another one to do…starts off very "matter of fact". Then as he progresses up my limbs, I can see a change in his eyes. By the end of the tongue test, he is being so very nice to me….wow…ok
The next day, a call from Neurologists rooms…can I come in that afternoon and bring someone with me. Well that's a sure sign they found something. My daughter and I have been talking a great deal about what could be wrong with me. ( I am used to doing copious research for her as she has an Autoimmune condition and is allergic to many medications. Often with serious side effects) .
We have to ring from outside the Surgery office….its Covid. They say come straight in…again ..wow….
We walk in and who's there to greet us in the waiting room? My Specialist……so obviously not good news. He solemnly takes us into his office. Sits us down and looks really sad…bad news!
"Sue, you have Motor Neuron Disease…."
Nicole my daughter immediately elbows me and says….huh…you were right mum. My first response was well that's good I can be euthanized!!!
Not the response he was used too. He did say, they preferred the term Voluntary Assisted Dying rather than being euthanized. I naively thought it would be an easy process to achieve!
And so on 15th of October 2021, I received my diagnosis.  BUT….there are a heap of different types of MND I now find out. Before we can start the VAD process  we have to have a definitive diagnosis of the sub type….
Ok, how do I get that? Either go to Geelong or Caulfield or Epping. They are the only MND Clinics in Victoria. But there is Covid. So delays everywhere.
To cut a long depressing story short. I saw the second Neurologist in December 2021,  Yep, I have ALS (don't ask me to spell it) form of MND with Bulbar (tongue) involvement. That means my speech and swallowing will be affected. Along with the rest of my body.
He said I could survive for several years with medical intervention. My response was a very firm NO to any intervention. I'm an ex Trained Nurse, I know what the future holds for me. I wanted VAD ……no discussion..
MND Victoria, contacted me and have been absolutely wonderful with both support and loaning me equipment.
They have given me a support person who is just amazing. While I'm in a head of fuzz, she is organizing all these new things for me…
The VAD volunteer I have is also FANTASTIC . She has been my guiding light thru this journey I am taking.
I get all the paperwork and see I have to have a VAD trained G.P.and a VAD trained Neurologist. This is where the journey starts. Sadly there are only TWO and a half VAD trained Neurologists in the whole of Victoria. My Neurologist is currently half way thru his course.
And GP's ..well I don't know how many there are,  but it's not a lot…
You know you have a VERY good GP when they are prepared to talk to you about how YOU feel and why YOU want to use the VAD. Especially when they ring you after hours to have a discussion about your decision and how they feel. Then at my next appointment  she agrees to do the course to help me. She tells my daughter and me that she  will walk every step of the way with us . And keep me as healthy and comfortable as she can….now that's one incredible Doctor!!!!!
In April,2022, my GP, finishes her course. I have to again ask her formally for VAD. She does her bit, we wait for approval for next step. That comes . Then I need 2 witnesses, that won't benefit from my death, to witness a heap of confusing papers. If English was your second language , you would have fun!!!

I do feel the current system in Victoria is discriminatory to both country people, those with English as a second language and people who are not very Computer literate ….

Meanwhile , my wonderful VAD volunteer is trying her hardest to get me into a VAD Neurologist ASAP. Remember there are only 2 in the State. How far am I able to travel, she asks….well by now I am using a walker so it's a bit difficult. She swings a last minute appointment with the right guy at an unnamed rural spot. I see him after hours….on a Saturday. It sounds like I'm after drugs or something illegal.

The VAD Neurologist is FANTASTIC too and does a very thorough examination. Checks that I am still of sound mind. Says he thinks I may have between 6 and 12 months to live at most without any intervention . I have not been this happy for a long time. The weight of MND has almost been lifted off my shoulders. Is this weird?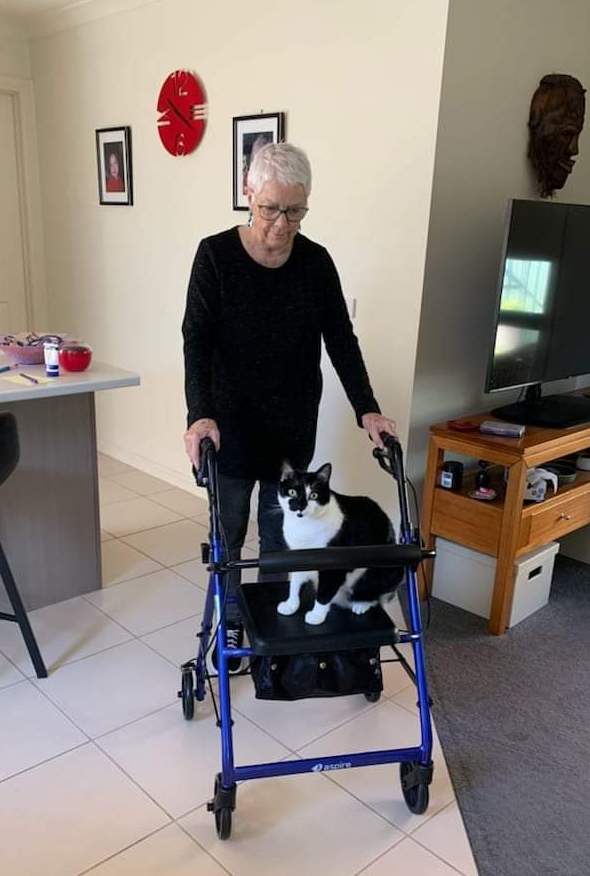 Now I wait. This Neurologist is really good and fast , by Monday I have received a copy of his report, as has my daughter and G.P.. By Wednesday I graduate my VAD 6 month long exam…. and  not long after that I receive my graduation present…a little black box.
The two Pharmacists who bring it say they are pleased to see someone so happy to be getting their death medication. Now I can really relax. The burden of MND has been lifted. Life is wonderful.  I can now live and enjoy my life knowing when I feel the quality has gone….so too can I go.
This is a very personal journey  and I am grateful to have my loved ones sharing it with me. They need to understand how strongly I feel. How fortunate I am to live in a State that allows me to have autonomy over my body and decide for myself when ….enough is enough….
That's my story so far. It's May 2022 … Election looming.. ??
But…I have been told….a good Scotch helps the medicine go down….so I'm enjoying testing a few. Can't go before I find the right one…
The saddest part of my story, I had to put my beautiful Chops down. I lay with him as the Vet gave him his dose. I have his Ashes to spread with mine..
Best part…daughter convinced me to adopt an older cat. We rescued an 8 year old beauty from Ballarat shelter. He hugs me in bed at night. Chops used to just turn his back on me and snore….
Life truly is beautiful, knowing I now have the power I will need at the appropriate time….
Have you got a personal story you would like to share?
Join the other voices in raising awareness about the importance and benefits of safe and compassionate Voluntary Assisted Dying laws.